Savar Tragedy: Fire at Rana Plaza
Savar, Apr 28 (Priyo.com):A devastating fire broke out at the first floor of the nine-storied collapsed building near Savar bus stand, hampering efforts to reach remaining survivors of a disaster that has killed 370 people.
The fire was reportedly started by sparks from cutters being used to remove wreckage. Four fire-fighters have been taken to hospital.
Smoke was seen pouring from a section of the building, stopping rescue work in that area. The building in Savar, on the outskirts of Dhaka, was a garment factory and the presence of clothing may have worsened the blaze.
According to sources, Shahina, a garment worker, who was pinned in the debris for five long days, was about to be rescued within a short time. But all the efforts were whipped away as fire caught the rescue place.
Shahina seemed perfectly alright before the incident, as she was provided with food, water, saline and medicines. She also wanted to have 'khichuri' as soon as she get rescued. Rescuers managed 'khichuri' for Shahina and waited for her to be picked up. But the end was a tragic.
The rescuers have come to a conclusion that there were no people remaining alive after the fire broke out.
Earlier on Sunday, two people were pulled out alive and rescuers are trying to free another. But hopes are fading that many more survivors will be found.
Thousands of relatives of missing workers are still waiting at the site as survivors and the dead are pulled from the rubble.
The death toll from the Savar building collapse has risen to 370 as rescue workers recovered 25 more bodies from beneath the rubble of the nine-storey building on Sunday.


Md Zillur Rahman Chowdhury, additional deputy commissioner of Dhaka district, confirmed the death toll.
Of the total, 345 bodies were handed over to their relatives. The rescue workers have rescued four survivors from the third floor of the shattered building in the afternoon. So far, total 2,440 people trapped inside the collapsed building have been rescued.
Relentless efforts are on to salvage those still alive inside the rubble of the collapsed Rana Plaza on Sunday morning, 96 hours after the tragedy struck in what was being described as the worst such incident in the history of Bangladesh.
The death toll stood at 370 on Sunday. A total of 345 bodies were handed over to the relatives.
Sohel Rana, whose 'negligence' caused Rana Plaza to cave in and leave at least 370 dead, was arrested from Benapole on Sunday afternoon.
State Minister for LGRD Jahangir Kabir Nanak confirmed it at Savar tragedy site. He is being brought to Dhaka by a copter. Click here to read more
A decision has been taken on Sunday morning to use heavy tools in the rescue operation in the rubble of Rana Plaza.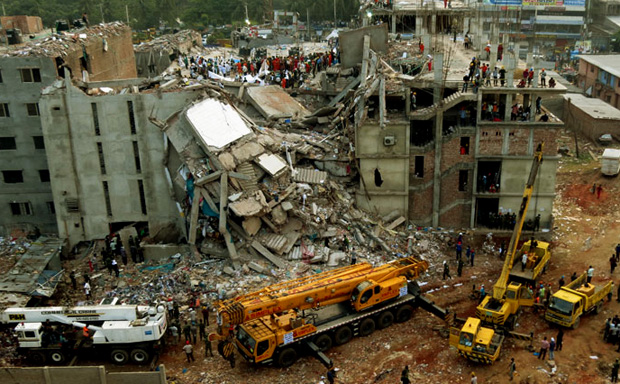 GOC of Ninth Infantry Division Chowdhury Hasan Sohrawardi made the announcement in a press briefing after a meeting of Army, navy, Air Force, RAB and others of rescue mission.
Hasan Sohrawardi said, "Patriotism, courage, personal efficiency and physical effort were key tools of rescue in last four days and now we want to use heavy tools as it is not possible to reach to the trapped people manually."
"We unanimously took the decision of using tools and Structural Engineers of Army, Red Crescent Society and Fire Service will take part directly while Air Force, RAB, Police, local administration and other volunteers will help from outside," he added.
Earlier, Army, RAB, police, fire service personnel and locals were conducting rescue mission.
Still, 1050 were missing according to the relatives, Police Sub Inspector put in charge at the Adhar Chandra School – the place where bodies were being kept – said.
Though it was not clear exactly how many people were inside the building when the building collapsed, estimates suggest the figure to be around 3,500.
On Saturday, the rescuers salvaged 31 people alive from the debris. These unsung heroes had to brave rains and storms to carry on with the rescue efforts.
All about Savar Tragedy
Days keep progressing, as the number of deceased resumed to elevate, at the eight-storied death house, Rana Plaza, collapsed on April 24, 2013 (Wednesday) morning in Savar.
What can be expected more from the ready-made garments (RMG) sector of the country after being whipped by several disastrous histories killing record people repeatedly? There were no answers resolving Tazreen Garment incident, nor during Spectrum garment incident, Phoenix Group and Begunbari, and many more occurred previously which even the people have forgotten. Rana Plaza incident is another that have accumulated in the 'black page' of the country. Click here to read more