Ananta-Barsha: End of Innings???
Dhaka, Mar 27 (Priyo.com): Finally, popular producer and film actor Ananta Jalil has decided to quit the innings of life divorcing his wife Afiea Nusrat Barsha, also a popular actress.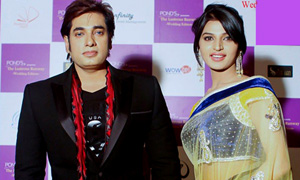 Having reached a 'private' divorce settlement officially in less than one week after the actors filed General Diaries (GDs) against each other, both the "ex's" made formal announcement in front of the media on Tuesday.
Earlier on March 22, they filed separate GDs at Mohammadpur Thana accusing each other. According to Barsha, who is also the brand ambassador of Grameenphone, Ananta used to torture her physically. On the other hand, Ananta raised questions on Borsha's character.
Confirming the matter, Mohammadpur Thana Officer-in-charge (OC) Azizul Haque told, "Both the husband and wife have brought a number of allegations against each other. But, we cannot disclose those as it's their family matter."
Later, the couple withdrew the GDs on March 23.
Ananta and Barsha got married on September 23, 2011. They have starred a number of movies together.
Ananta Jalil and Barsha have gained popularity among the youths of Bangladesh for bringing a remarkable change in the film industry. Both attended several shows which catalyzed their popularity immensely.
Ananta-Barsha movies together:
Khoj- The Search
Speed
Most Welcome
Nisshartho Bhalobasha