BNP-Jamaat countrywide hartal ends amid several incidents(Video) (Update 5)
Dhaka, Mar 7 (Priyo.com): Four BNP lawmakers including Ashfia Ashrafi Papia and Shammi Akhter, who were detained earlier were freed in the afternoon.
Picketers damaged and vandalized several vehicles in the capital, BNP-Jamaat called a countrywide hartal on Thursday.
A public bus ablaze at the city's commercial hub Motijheel.In another incident, two crude bombs were exploded targetting policemen on duty in front of Ruposhi Bangla Hotel around 12:30pm.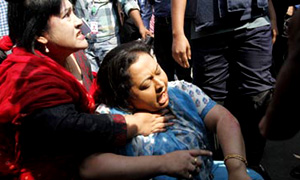 Pickets vandalised and set fire to several vehicles and blasted cocktails in different parts of the capital, Dhaka, to enforce a daylong hartal (shutdown) called by main opposition BNP and its key ally Jamaat-e-Islami.
Miscreants set fire to railway track in Comilla and vandalised five vehicles.
Dhaka:
Shahbag
In another incident, two crude bombs were exploded targetting policemen on duty in front of Ruposhi Bangla Hotel around 12:30pm.
"Two youth riding a motorbike hurled the two handmade bombs at police. Police fired blank shots in retaliation, creating panic," Shahbagh police sation's Sub-Inspector Rezaul Islam said.
Motijheel:
Picketers on Thursday afternoon set a public bus ablaze at the city's commercial hub Motijheel.
Witnesses say the bus was heading towards Ittefaq intersection from Shapla Chattar. Some people waylaid the bus when it reached in front of Madhumita cinema hall and then set it on fire.
Nayapaltan:4 BNP MPs picked up
Four BNP lawmakers including Ashfia Ashrafi Papia and Shammi Akhter were detained from in front of the party's Nayapaltan central office around 10:30am.
Police picked them up and took them to the office of Detective Branch of police on Minto Road, said Mehedi Hassan, additional deputy commissioner, Motijheel Zone.
Two other lawmakers are Rasheda Begum Hira and Rehana Akhter Ranu.
UTTARA
Pickets set fire to a stationed bus in Uttara House Building area around 8:00am.
The bus was damaged partially before firefighters from Tongi Fire Station rushed the spot and put out the blaze.
SHANIR AKHRA
A bus was vandalised near Saddam Market around 6:15am.
Activists of Islami Chhatra Shibir, a pro-Jamaat organisation, blasted four cocktails in the area around 7:00am.
JATRABARI
Pro-hartal activists vandalised a human hauler (leguna) at Bibir Bagicha in Jatrabari around 6:30am.
COMILLA
Pickets set fire to railway tracks near Home signal and at a level crossing of Daulatganj Station around 7:30am, halting train service on Laksam-Noakhali route for two hours.
Dhaka-bound Upokul Express from Noakhali got stuck at Natherpetua Station following the disruption. It started for destination around 9:30am after the railway tracks were repaired, said Masud Sarwar, transport inspector of Laksam Junction.
BNP initially called the hartal programme protesting "police attacks" on its scheduled demonstration in the city on Wednesday afternoon. Following suit, BNP's ally Jamaat-e-Islami also announced a dawn-to-dusk lockdown programme for the day.
But, finally a meeting of the 18-party opposition alliance, led by BNP and Jamaat, decided to observe the hartal as an action programme of the alliance to protest the Wednesday's police atrocity. Earlier on Sunday and Monday, Jamaat also enforced a 48-hour non-stop hartal followed by another daylong one by BNP on Tuesday.
NARAYANGANJ
At least five people including Jubo Dal joint convener of city unit Rana Majid were injured when law enforcers charged batons to disperse a procession of Jubo Dal activists at the city's Kalirbazar area around 6:00am.
Meanwhile, activists of Swechchhasebak Dal vandalised five vehicles in Kashimpur of Fatulla around 7:00am.
Pickets blockaded Dhaka-Narayanganj highway by burning tyres.
Police picked up 15 people including Jubo Dal convener Maksudul Alam Khandakar Khorshed from different parts in the city for their alleged involvement in anarchy during the hartal, said Ashrafuzzaman, additional superintendent of Police in Narayanganj.
CHITTAGONG
Pro-hartal activists blasted a cocktail when police was dispersing a procession of BNP men in the city's North Kaktali in Pahartali area around 9:30am.
None was injured during the explosion, said Abdur Rouf, officer-in-charge of Pahartali Police Station.
Police rounded up two pickets while trying to vandalise a vehicle at Muradpur in Panchlaish area around 8:30am, said Md Shahidullah, additional deputy commissioner (North) of Chittagong Metropolitan Police.
In pre-hartal violence, pickets vandalised two buses and torched three covered vans around 3:00am in Sitakunda, said Samiul Alam, OC of Sitakunda Police Station.
BHOLA
Pickets vandalised at least 10 vehicles including two motorbikes and blockaded roads by burning tyres in different areas till 11:00am, reports our Bhola correspondent quoting Arefin, OC of Bhola Sadar Police Station.
A chase and counter-chase took place between pro-hartal activists and law enforcers in front of Reba Rahman College in Ghoingarhat area when pickets were vandalising vehicles in the morning, the OC said.
RAJSHAHI
Police opened fires and dispersed a procession brought out by BNP leaders and activists in the city's Malopara area around 8:00am.
No one was injured during the incident.
GAZIPUR
Some unruly Awami League men allegedly set fire to a BNP office in Tongi upazila, UNB reports.
Witnesses said AL activists thronged the entrance of the house of local lawmaker Jahid Hasan Rasel as they came to know that some miscreants had attacked his car and hurled crude bombs Wednesday night.
The AL men staged a demonstration protesting the attack and rushed to the BNP's local unit office and set it ablaze at 1:00am.
Informed, firefighters came in and doused the flame.
BNP and Jamaat declared the hartal protesting what it said Wednesday's attacks on it leaders and activists by armed ruling party men and police brutality.
Video: