18-party alliance decides to wage one-point oust-govt movement
Dhaka, Mar 6 (Priyo.com/UNB): Amid the growing atrocities what it said by the current regime against its political opponents, the BNP-led 18-party alliance on Wednesday night decided to launch a one-point oust-government movement.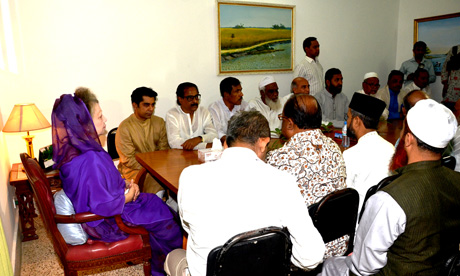 But, the alliance's embattled partner Bangladesh Jamaat-e-Islami will unilaterally continue its movement seeking the release of its detained leaders facing war crimes trial.
The decisions were taken at a meeting between BNP chairperson Khaleda Zia and the top leaders of her party-led 18-party alliance.
The nearly 45-minute meeting that began around 9pm was held at the BNP chief's Gulshan office with Khaleda Zia in the chair.
This was the first meeting of the opposition alliance since the initiation of Shahbagh Ganojagaran Mancha demanding the execution of all the war criminals. The last meeting of the alliance top leaders with Khaleda was held two months back in January 28.
Talking to reporters after the parley, Jagpa president Shafiul Alam Prodhan said the one-point movement will be taken ahead with the alliance.
Meeting sources said the BNP chief will finalise the next course of action of the alliance after a meeting with her party's standing committee members next week.
She hinted at enforcing more shutdowns in the coming week.
The meeting denounced the attacks by "police and ruling party cadres" on BNP's demonstration on Wednesday in front of the party's Nayapaltan central office. It also discussed the country's latest political situation.
The alliance leaders suggested Khaleda to announce consecutive harsher programmes like hartal, blockade and non-cooperation movement.
Responding positively, the former premier said the alliance will continue with tougher action programme until the government is ousted.
She also urged the alliance partners to remain active on the streets with their best efforts to make every action programme, including Thursday's hartal, of the 18-party an all-out success.
After the alliance meeting, BNP joint secretary general Ruhul Kabir Rizvi told reporters that Thursday's hartal, separately announced by BNP and Jamaat, will also be considered the 18-party's programme.
BNP acting secretary general Mirza Fakhrul Islam Alamgir, Jamaat central leaders Abdul Halim, Bangladesh Jatiya Party President Andalib Rahman Partha, IOJ chairman Abdul Latif Nezami, Jagpa president Shafiul Alam Prodhan, NPP president Shawkat Hossain Nilu, Kalyan Party Chairman Maj Gen (retd) Syed Muhammad Ibrahim, and Labour Party president Mustafizur Rahman Iran were, among others, present at the meeting.